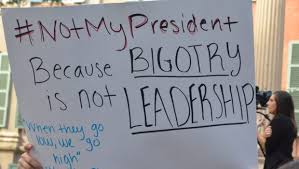 It is barely two weeks since Trump won the election and suddenly the media attention on the women who came forward about being sexually assaulted by him has vanished. The networks are now intent on normalizing Trump and are not touching the questions: How did we elect a sexual predator as President? How come the women who came forward with their stories have now disappeared? Will our judicial system throw out cases brought forward by women who have experienced rape? Will students in fraternities be emboldened to rape with impunity on the basis of the precedent set by Trump?
At a recent National Organization of Women's New York convention. Jane Manning and Emma Slane, prosecuting attorneys for two women who were raped after being drugged unconscious spoke about their cases. They described their cases as difficult particularly because they had to prove that because the victims were unconscious they had no memory. They won their cases because the victims had used the rape kit, and the attorneys were able to use techniques such as the hair test, where the DNA matched the hair sample from the attacker.
In Trump's case, the women not only remember being assaulted by him, but they had told their close friends about it; therefore, we also have credible testimonies. So isn't it bizarre that at a time when prosecuting attorneys are able to win difficult cases, Trump's victims have vanished into the woodwork? What's more, in New York the statute of limitations has been lifted, a victory that should make some of Trump's victims press charges more easily.
The woman who said she was raped by Trump when she was 13 has now withdrawn her charge on account of receiving death threats from Trump's supporters. Does this mean women will be more afraid now to bring cases against attackers who are powerful, because they will be threatened by a society that sees the victim as the "problem," not the rapist? So, what is the difference between this current crisis and of sexual assault that goes unpunished in countries like Pakistan that we are quick to criticize for the same problem?
Remember Dominique Strauss Kahn who assaulted a maid in a New York hotel? His trial lasted 4 years and it prevented him from running for the Presidency in France. It is indeed deplorable that Trump who is more powerful is not held accountable. And the media's silence is deafening.
And why aren't we taking any action, even if major women's organizations like NOW have devoted much of their energy to fight sexual violence and bring perpetrators to justice? Why aren't millions marching outside Trump Tower so a sexual predator is not elected President? How come millions are marching in South Korea to impeach their President for her criminal offences while we who believe ourselves to be a superpower are laboring under a pall of silence about this horrendous double crime—that of sexual assault and the crime of electing a perpetrator?
Just when we thought we are finally able to fight against hegemonies such as economic class and status of perpetrators of sexual violence, we are now encountering someone who indeed believes, along with a puppet media, that he is immune from the law.
(Photo Credit: Cisternyard)