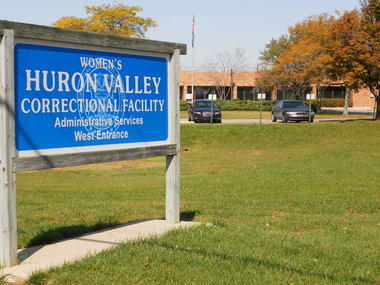 Recently, reflecting on family separation and other forms of public policy abuse of migrant and immigrant families and communities, regular Women In and Beyond the Global contributor Nichole Smith wondered, "Have we no shame?" Consider the conditions of women's prisons, jails, and detention centers across the United States, from Florida's Lowell Correctional Institution to Alabama's Julia Tutwiler Prison for Women to Pennsylvania's SCI-Muncy to Texas' Karnes County Residential Center to the Charleston County Jail in South Carolina to Alaska's Anchorage Correctional Complex and between and beyond. Have we no shame? Take, for example, Michigan's one women's prison, the Women's Huron Valley Correctional Facility. Go there and you will see and smell that we have no shame, we have no capacity for shame.
In April 2012, the ACLU "persuaded" the Women's Huron Valley Correctional Facility to stop its practice of invasive strip search of all women prisoners who had a contact visit … with family, clergy, friends, attorneys, anyone.
In September 2014, the ACLU, Michigan Department of Corrections, and US Department of Justice announced they were investigating the abuse and torture of prisoners living with mental illnesses who had the misfortune of ending up in the Women's Huron Valley. Women were hogtied naked for hours on end, deprived of food and water, thrown into solitary. Advocates and supporters argued that Huron Valley was a closed system, and as such was ripe for abuse.
In November 2015, a twenty-five-year-old Black woman, Janika Nichole Edmond died, or better was executed in the Women's Huron Valley Correctional Facility.  Janika Edmond's story is short and terribly familiar: Janika Edmond lived with mental illness. Once in Michigan's `criminal justice' system, her condition deteriorated. She had a history of assaulting prison guards, which resulted in her being sent to solitary, which resulted in her becoming more aggressive. The rate of `incident reports' skyrocketed. No one did anything. In 2014, Janika Edmond made a rope out of a towel and tried to hang herself. Earlier in 2015, Janika Edmond was found with a razor. She said, repeatedly, that she was "tired of being here" and was hearing voices. No one on staff listened to Janika Edmond's voice. The day she died, Janika Edmonds asked for a suicide prevention vest. The guards laughed. Hours later, she lay dead on the floor. "The death report provided by the MDOC [Michigan Department of Corrections] for Edmond shows her presumed cause of death was suicide." When Janika Edmonds died, the State was still "investigating" the July 16 death of Kayla Renea Miller, in Huron Valley. 
In 2012, Carol Jacobsen, founder and Director of the Michigan Women's Justice and Clemency Project, noted, "Abu Ghraib has nothing on Huron Valley." She was describing the irony that Huron Valley was meant to solve the crisis of abuse of women prisoners in the Robert Scott Correctional Facility. As a result of widespread torture and abuse, Scott was closed in 2009, and the women were moved to Huron Valley, which is worse than Scott. In 2012, we "cared" about Abu Ghraib. Huron Valley? Not so much.
For the past seven years, the Women's Huron Valley Correctional Facility has been described, accurately, as hell. On November 20, the Women's Huron Valley Correctional Facility was sued for "perilous" conditions. According to the lawsuit, "The women have complained about the presence of mold in the facility for years, and continue to do so, but their pleas have been ignored." Huron Valley "is operating under a state of degradation, filth, and inhumanity, endangering the health and safety of incarcerated women." One of the attorneys described Huron Valley as "medieval and dungeon-like." Another added, "This prison has a long history of problems: dilapidated conditions, unsafe conditions, and unconstitutional conditions. This has been going on for a long time. To make matters worse, there's no ventilation. So these women are trapped in these boxes and are literally being poisoned on a daily basis, with no ventilation."
Michigan's only women's prison, the Women's Huron Valley Correctional Facility, is not medieval. It is modern, all too modern. Overcrowded, toxic, lethal … and this is us. Michigan's only women's prison, the Women's Huron Valley Correctional Facility, is the architecture of shame in the United States of America. Michigan built a special hell for women, the Women's Huron Valley Correctional Facility, and it's been going on for years and it's going on now. Have we no shame? You tell me.
(Photo Credit: Michigan NPR)