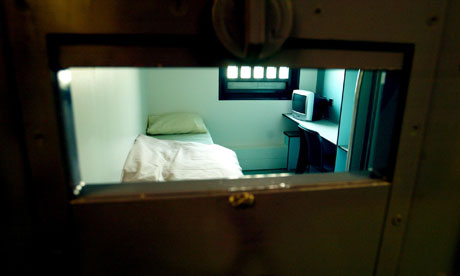 Welcome to HMP Bronzefield, a "Private Finance Initiative", or PFI, prison for women in southeast England. If you are a `women with complex needs', a women who is both `vulnerable and violent', you can expect to spend your time, years and years of it, in isolation, in a squalid cell.
That is the finding of an unannounced visit by Nick Harwick, the Chief Inspector of Prisons. In April he visited Bronzefield, and here's part of his report: "HMP Bronzefield is a closed women's local prison run by Sodexo Justice Services that at the time of this inspection held 446 women on remand or serving sentences ranging from a few weeks to life … At our last inspection in 2010 we reported:
"The prison held a small number of 'restricted status' women, some of whom had severe personality disorders. Their needs could simply not be met by the prison. One woman, who had exhibited unpredictable and violent behaviour, had effectively been held in the segregation unit for three years with very little human contact or activity to occupy her. The conditions in which she was held seemed likely to lead to further psychological deterioration and were completely unacceptable. There was little evidence that senior staff in the Prison Service had oversight of women segregated for long periods to ensure their conditions were humane. Bronzefield is not an appropriate place for women with these needs and there was a lack of a national strategy to manage women with such complex demands.
"We were dismayed that the woman who had already been in the segregation unit for three years in 2010 was still there in 2013. Her cell was unkempt and squalid and she seldom left it. Although more activities had been organised for her and better multi-disciplinary support was available, she still had too little to occupy her. Her prolonged location on the segregation unit amounted to cruel, inhumane and degrading treatment – and we use these words advisedly. The treatment and conditions of other women held for long periods in segregation was little better. Much of this was outside the prison's direct control and required a national strategy for meeting the needs of these very complex women – as exists in the male estate. However, Bronzefield itself needed to do more to ameliorate the worst effects of this national failure."
When Bronzefield opened in 2004, it was the first PFI prison for women in the United Kingdom. In their nine years of operation, they have not managed, or refused, to take into account `women with complex needs.'
Juliet Lyon, of the Prison Reform Trust, wondered, "Why in this day and age are women with such complex needs transported like cattle and dumped in prison, where one of the most damaged women is left to rot in some form of solitary confinement for five years?"
Frances Cook, Chief Executive of the Howard League for Penal Reform, was a bit more direct: "This shocking case of treatment, which appears to amount to torture, in an English prison should shame ministers who tolerate the over-use of custody for women and consequent poor treatment."
It should should … but it didn't. They loudly proclaim their opposition to violence in Syria but for `women with complex needs' in their own backyards? Not so much.
Jan Sambrook, the Chair of the Independent Monitoring Board at Bronzefield, wrote, today, "We are … very concerned about the humane and fair treatment of a small number of such women. The discussion so far has been about one woman. This is not an isolated case … I, previous chairs, and members of the IMB have raised our concerns repeatedly about the women held long-term in the segregation unit. This is in direct contravention of National Offender Management Service (Noms) guidance, falls well below what is fair, decent and humane, and discriminates against female prisoners, as the special accommodation available to men is not provided for women … I'd like to emphasise that the concern is not just about the one woman being talked about today, but the wider issue of the holding of the small number of women who are potentially very violent, difficult and volatile but also vulnerable. Presently there are no dedicated facilities for the holding of these women such as those available in the male prison estate, meaning that they get held in what we consider unsuitable conditions, including being isolated for far too long. This is unfair and discriminatory."
What do we know about women's prisons? They have a higher ratio of people living with mental health illnesses and a higher ratio of people who have been sexually and otherwise abused. What else do we know about women's prisons? If you're a woman prisoner in the United Kingdom and you've got any problems, unlike in the male prison system, there's nowhere to go but in a hole … for a long time.
Call it torture. Call it systematic as well. And please refrain from expressions of shock. This is not an isolated case; this is not about one woman or one prison; and none of this is new.
(Photo Credit: Martin Argles / The Guardian)