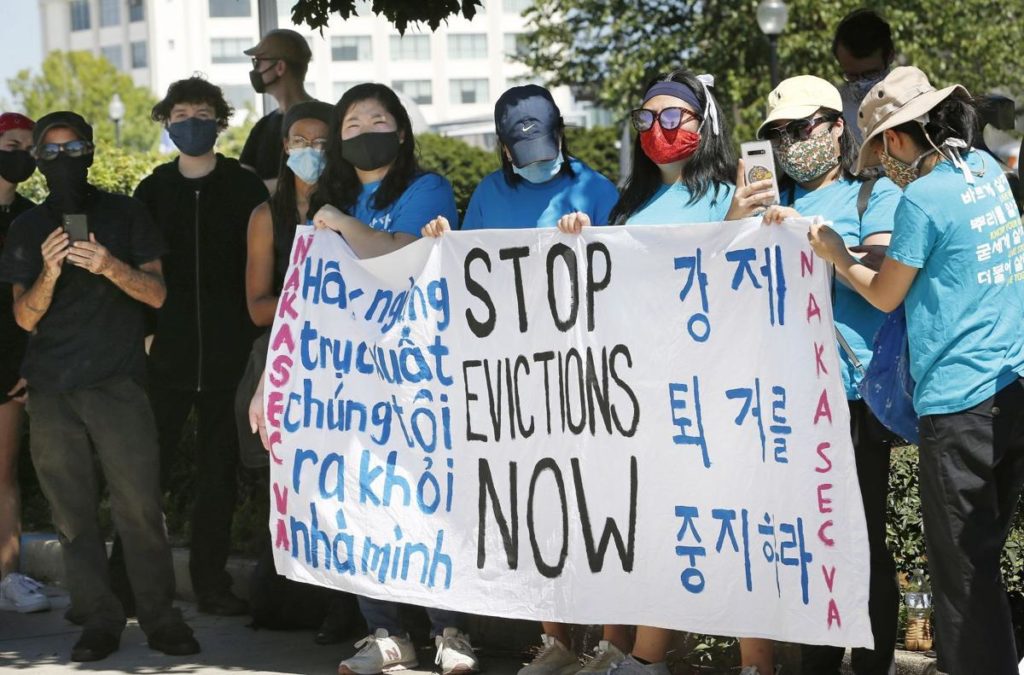 In today's news, "the number of eviction notices filed in San Francisco has rebounded to pre-pandemic levels." In New Bedford, Massachusetts, longstanding residents' homes are being bought by developers who raise the rents precipitously, way beyond current tenants' means, forcing them to move. In one complex, most of the residents received eviction notices. In others, they move before the notices come: "This situation is becoming the norm throughout the city. People are coming in and evicting people who have been living in these houses for 10 years". And in Virginia, "fifteen large companies are responsible for half of all evictions in the Richmond area." From coast to coast, this situation of eviction and forced displacement is becoming the norm. Consider Richmond and, beyond it, the Commonwealth of Virginia.
But first, consider the entire country, briefly. According to the Eviction Lab's latest eviction report, issued on October 8: "In the 6 states and 31 cities we track, landlords have filed for 1,240, 656 evictions during the pandemic. They filed for 7,713 over the last week." On July 27, the number of filings was 1,053,252. That means, in three months, landlords, disproportionately corporate landlords, filed 187,404 evictions. 15% of all eviction filings in the three years of the pandemic occurred in the last three months, and the number, and rate of eviction, is rising. The numbers for Virginia are equally disturbing.
According to the Richmond-based RVA Eviction Lab's most recent report, in Richmond, 87% of eviction filings this quarter were filed by corporate landlords. Half were filed by 15 companies. This week, Richmond is set for a record week of evictions, 126 evictions. Pre-pandemic, the weekly number was between 50 and 60. This record breaking week was not a surprise, given a report the week before in which one apartment complex, James River Pointe, bought by a corporation, saw half of the residents receive eviction notices.
A major company, Homes of America, linked to a major hedge fund, Alden Global Capital, has been buying up mobile park homes across the country. This company bought a mobile home park in Montgomery County, in southwest Virginia, and immediately sent residents "notices to quit", offering them the "opportunity" to pay $700 or vacate within a matter of days. Homes of America,has done the same in North Dakota, Florida, Louisiana, and elsewhere.
In northern Virginia, according to the RVA Eviction Lab report, with the exception of Fairfax County, which saw a dip, all the region experienced a rise in eviction filings and judgements. Alexandria lead the pack: "Eviction filings in Alexandria, Fredericksburg and Prince William increased by 109%, 75%, and 96%, respectively". Default judgments in Alexandria are approaching pre-pandemic levels, with 26% of all evictions ending in a default judgment, meaning the tenant didn't show and, by Virginia law, the landlord automatically wins the eviction.
This situation is becoming the norm. People are coming in and evicting people who have been living in these houses and apartments for years. These numbers do not take into account those who have `self-deported' or been victims of `informal evictions" or "`invisible evictions.' Essentially, when landlords offer new leases with much higher rents, many tenants are forced to move if they can't pay." Others move rather than suffer the Scarlet Letter of eviction filing attached to their name. An eviction filing is as damaging as an eviction, in terms of the ways in which future landlords consider an application. So, what's going on? While there are many factors, report after report points to the entrance of major corporations and hedge funds into the rental market and the willingness, the eagerness, of corporate landlords to file for eviction. While eviction moratoria and rent control are profoundly important, as long as corporate interests are given a free hand to exert virtually monopolistic control over rental markets, the situation will worsen. That is not inevitable. Stop evictions, stop predatory rent hikes, end corporate domination of housing. This situation cannot be allowed to become the norm.
(By Dan Moshenberg)
(Photo Credit: Richmond Times-Dispatch / Alexa Welch Edlund)
(Infographic Credit: RVA Eviction Lab)