On Monday, September 28, Joyce Echaquan — mother of seven, partner to Carol Dube, member of the Atikamekw nation of Manwan, 37 years old – died … or, better, was tortured to death, while lying in a hospital bed in Joliette, in Quebec, Canada. Suffering severe stomach pains, Joyce Echaquan checked herself into a hospital. That was September 26. On September 28, as the pain intensified, nurses administered morphine, even though Joyce Echaquan told them she was allergic to morphine and that she had a pacemaker. As Joyce Echaquan screamed in intensifying pain, the nurses told her, "You're as stupid as hell"; "Are you done acting stupid? Are you done?"; "You made some bad choices, my dear. What are your children going to think, seeing you like this?"; "She's good at having sex, more than anything else". We know this because Joyce Echaquan, in excruciating pain, dying, pulled out her phone, started filming and posting on Facebook. The video is a bit over seven minutes long. Soon after Joyce Echaquan died … or, better, succumbed to torture. Now there's an `outcry' in Canada at the treatment Joyce Echaquan received, which was perfectly ordinary treatment for Indigenous women. Outcries have a short life span, especially when the subject is the torture and abuse of Indigenous women.
Joyce Echaquan pulled out her phone because she knew. She knew because it had happened before, to her. She knew because she was an Atikamekw woman. She knew because. Period. She knew that her family would organize and protest, decrying systemic racism. She knew they would hold her in their hearts and souls. She knew as well that the government of Quebec and Canada would deplore the horrible act, would demand an investigation, and ultimately would do absolutely nothing. 
Joyce Echaquan told the staff that she should not be given morphine, and they refused to listen. None of this is new. It has happened before, certainly across Canada, and will happen again. Violence against Indigenous, Native, First Nation, Aboriginal women is a core part and principle of the colonization processes and practices that continue, unabated, to this day. Why, for example, it the outcry and outrage only Canadian? Where is the coverage of Joyce Echaquan's torture in the various new media around the world? The BBC had something, as have AlJazeera and the Guardian, and that is pretty much it. Where is the outrage at the torture of an Indigenous woman who only wanted, needed, and deserved care? Who cares about Joyce Echaquan? Tomorrow, Monday, October 11, is Indigenous People's Day. It took 48 hours and a little over four centuries to torture Joyce Echaquan to death. Other than family, friends, community, who will remember Joyce Echaquan a year from now? Joyce Echaquan lived in a world in which, on her deathbed, she had to pull out her phone and start recording the torture she was suffering. We continue to live in that world. This is us.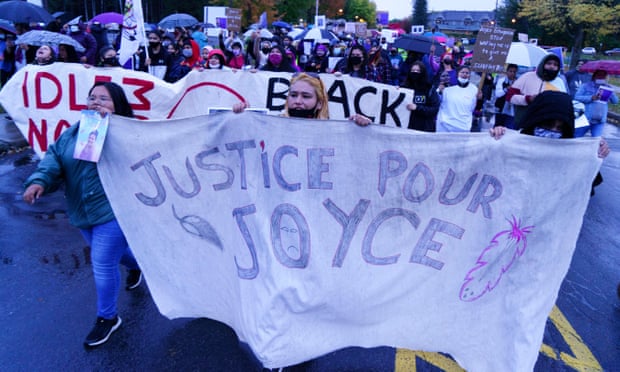 (Photo Credit 1: The Star) (Photo Credit 2: The Guardian / Canadian Press)