This week, within a 24-hour span, major reports revealed that Canada's prison system "is nothing short of a national travesty" and the prisons of England and Wales are "a national scandal". The reports are important, well researched, and grim, but they also repeat the findings of earlier reports, with one glaring exception. The situation is worsening, in fact the negative aspects are at an all-time high. If the various national populations have time and again received reports of a terrible situation worsening and if those populations and their national governments have done nothing, have done less than and worse than nothing, it is reasonable to ask, "Who cares?"
On Tuesday, January 21, 2020, Canada's Correctional Investigator, Dr. Ivan Zinger, released a report on the current status of Canadian prisons: "Four years ago, my Office reported that persons of Indigenous ancestry had reached 25% of the total inmate population.  At that time, my Office indicated that efforts to curb over-representation were not working.  Today, sadly, I am reporting that the proportion of Indigenous people behind bars has now surpassed 30% … On this trajectory, the pace is now set for Indigenous people to comprise 33% of the total federal inmate population in the next three years.  Over the longer term, and for the better part of three decades now, despite findings of Royal Commissions and National Inquiries, intervention of the courts, promises and commitments of previous and current political leaders, no government of any stripe has managed to reverse the trend of Indigenous over-representation in Canadian jails and prisons. The Indigenization of Canada's prison population is nothing short of a national travesty." Indigenous women are the core of this Indigenization of Canada's prison system, accounting for 42% of women inmates. In some prairie regions, Indigenous women comprise almost 90% of the prison population. Where once there were boarding schools, now there are prisons and jails.
On Wednesday, January 22, 2020, Inquest released its report, Deaths in prison: A national scandal. At the outset, the report notes that "levels of distress are at record high levels" and that "since 2016 the number of deaths have remained at historically high levels, with little sign of significant change." 2016 was "deadliest year on record". In their press release, Inquest suggests that that "'national scandal' of deaths in prison caused by neglect and serious failures." But what if it's neither neglect nor failure? What if death, largely through self-harm, is the system successfully at work?
This question arises out of the cyclical redundancy of these discoveries. 2013: Canada's Correctional Investigator reports that federal and provincial prisons are booming, with Aboriginal people, especially women, "over-represented" in prisons, in maximum security and solitary confinement. 2014: Canada's Correctional Investigator reports concern over the incarceration of Aboriginal women and the routine use of psychotropic drugs to control Aboriginal women behind bars, producing a mass population of "walking zombies". 2016: another report, more expression of concern: Of 683 women prisoners, 248 are Aboriginal. Over 36% of women prisoners are Aboriginal. There's more, but you get the picture.
In England and Wales, the picture is the same. Here's 2014: "In 2014, 84 people killed themselves `in custody' in England and Wales That's the highest figure in seven years and an increase of 12% over the year before. The rise in suicide is surpassed by the rise in self-harm, up more than 25%. Overall, it was a banner year for the prison state, with 243 deaths in custody." 2016, as noted, prison deaths, and particularly suicides, soared, as did self-harm: "When considering females, despite the falls seen between 2009 and 2012, rates of individuals self-harming among females remain disproportionately high in comparison to the overall rates of individuals self-harming … Females accounted for nearly a quarter of self-harm incidents in this reporting period, but only make up less than 5% of the prison population." Again, there's more, but the picture is already clear.
Both the Office of the Correctional Investigator of Canada and Inquest note the need to learn from past experiences while both express disappointment at lessons unlearned, unheeded, but what if there are no lessons to learn? What if these deaths are but a station on a global assembly line at which employees dutifully stand and wait for the next body to ignore? The prisons of Canada and of England and Wales are a tiny part of the global labor of necropower: "New and unique forms of social existence in which vast populations are subjected to conditions of life conferring upon them the status of living dead … Under conditions of necropower, the lines between resistance and suicide, sacrifice and redemption, martyrdom and freedom are blurred." Once again, prison is Canada's "travesty", England's "scandal". Who cares?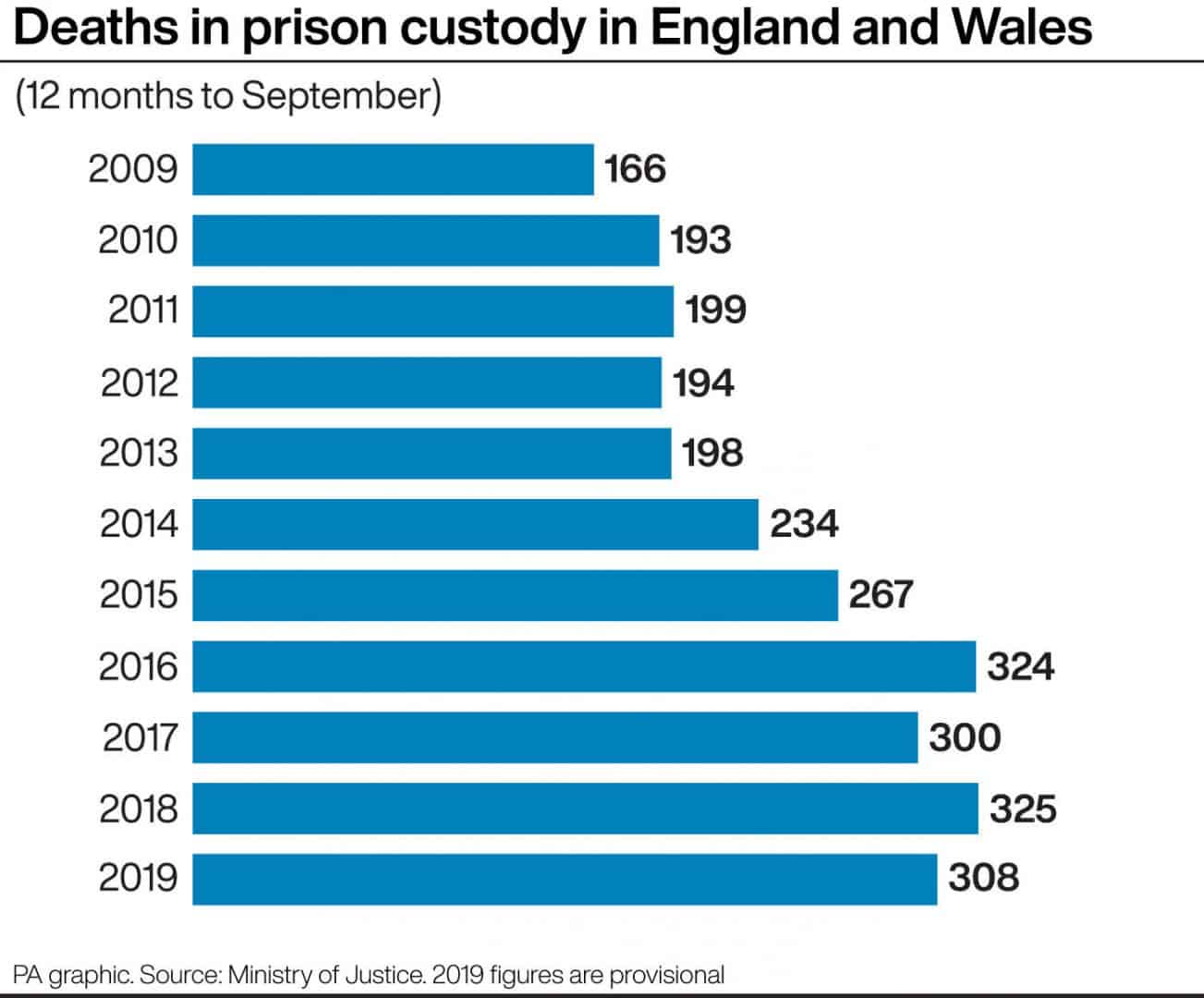 (Infographic Credit 1: Office of the Correctional Investigator of Canada) (Infographic Credit 2: The London Economic)