Happy Indigenous Peoples' Day! In the future, this day should be remembered as the day in which Indigenous peoples of Ecuador stopped cold an IMF-sponsored austerity program. Today, October 14, 2019, Lenín Moreno, Ecuador's President, and leaders of the Indigenous Peoples' movements announced that they had reached a deal to cancel the austerity package. It took almost two weeks of protest and seven deaths, but in the end Indigenous peoples and their allies succeeded. As Rosa Matango responded to the news, "I am happy as a mother, happy for our future. We indigenous people fought and lost so many brothers, but we'll keep going forward." Jaime Vargas, President of the Confederation of Indigenous Nations, added, "From our heart, we declare that we, the peoples and nations, have risen up in search of liberty. We recognise the bravery of the men and women who rose up." Indigenous women have been key to the success of this mass mobilization against austerity and for dignity and decency.
What happened? On October 1, Moreno cut a deal, known familiarly as "el paquetazo", with the IMF. The IMF insisted on austerity if Ecuador wanted loans and `assistance'. This package included a frontal assault on public sector workers: 20% wage cuts; decrease in vacation pay; and the `donation' by public sector works of one day a month to the government. What the IMF calls donation, the rest of the world calls wage theft. Additionally, the package included an end to fuel subsidies, that had been in place for 40 years. Within hours, diesel fuel prices doubled, and regular fuel prices shot up 30 percent.
On October 2, labor unions, women's groups, student unions, and Indigenous peoples' groups announced their intent to protest. On October 3, the protests began, with transportation unions striking. Ecuador was shut down for two days, October 3 and 4. After talks between the government and transportation unions, the strike was called off. On October 4, Moreno declared a state of emergency. Mass protests continued and intensified. From October 3 to Saturday, October 12, protests grew and intensified. The country was at a standstill. Moreno moved his government from the capital city, Quito, to Guayaquil, on the coast.
Where are the women in all this? Everywhere and at the forefront.
From the moment the Indigenous masses began pouring into Quito, people started noticing the large presence of women and children in the protests. Indigenous women from all parts of the country made it clear that they were in for the long haul. They made this clear in words and actions. Many brought food and cooking utensils and set up kitchens to feed the ever growing populations. As Marta Chango, provincial coordinator for the political movement Pachakutic in the Tungurahua province, explained, "We are here to resist to the last moment, we are mothers, women and daughters who have come from provinces from across the country to proclaim that the State, in its abuse of power, will not succeed in murdering our people. We will not let that happen."
They came by the tens of thousands and continued to shut down the country. When the State attempted to respond with severe repression, with bullets and tear gas, the women organized, and on Saturday, they organized a women's march which linked State violence and repression with State austerity. Indigenous intersectionality was everywhere, as women explained their choices in clothing to why they brought children. Repeatedly the answer was the same: this is women's resistance, this is the community's resistance. We will not be massacred, exterminated, or erased. When Indigenous women marched, they were joined and supported by a variety of non-Indigenous women's movements. Together, women, led and organized by Indigenous women, filled the streets of Quito, filled the sky with their chants, "No more deaths!" "Not one more bomb! Not one more rock!" On Saturday, as State and Indigenous leaders began to meet, Indigenous women turned Quito into an Indigenous women's temporary autonomous zone, and they threatened to make it last for as long as necessary. On Sunday, the talks continued. Today, a pact was announced.
As has happened frequently in Ecuador, the Indigenous women are united. When they say, "No!", they mean, "NO!" The people united and demanded attention, dignity and justice. They demanded that the State belongs to the country's residents, and not to the IMF. They demanded peace. And they won. Women were key to this victory. Happy Indigenous Peoples' Day 2019!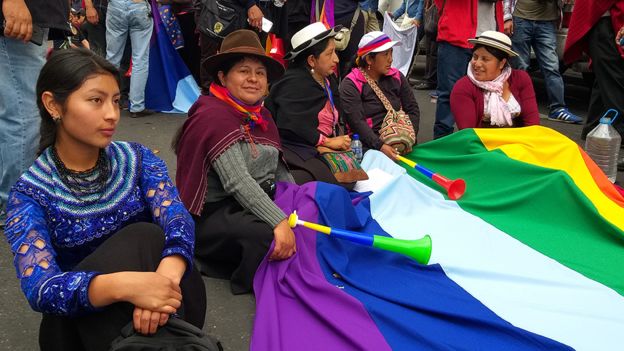 (Photo Credit: Al Jazeera / Fernando Vergara / AP) (Photo Credit 2: BBC / Matías Zibell)