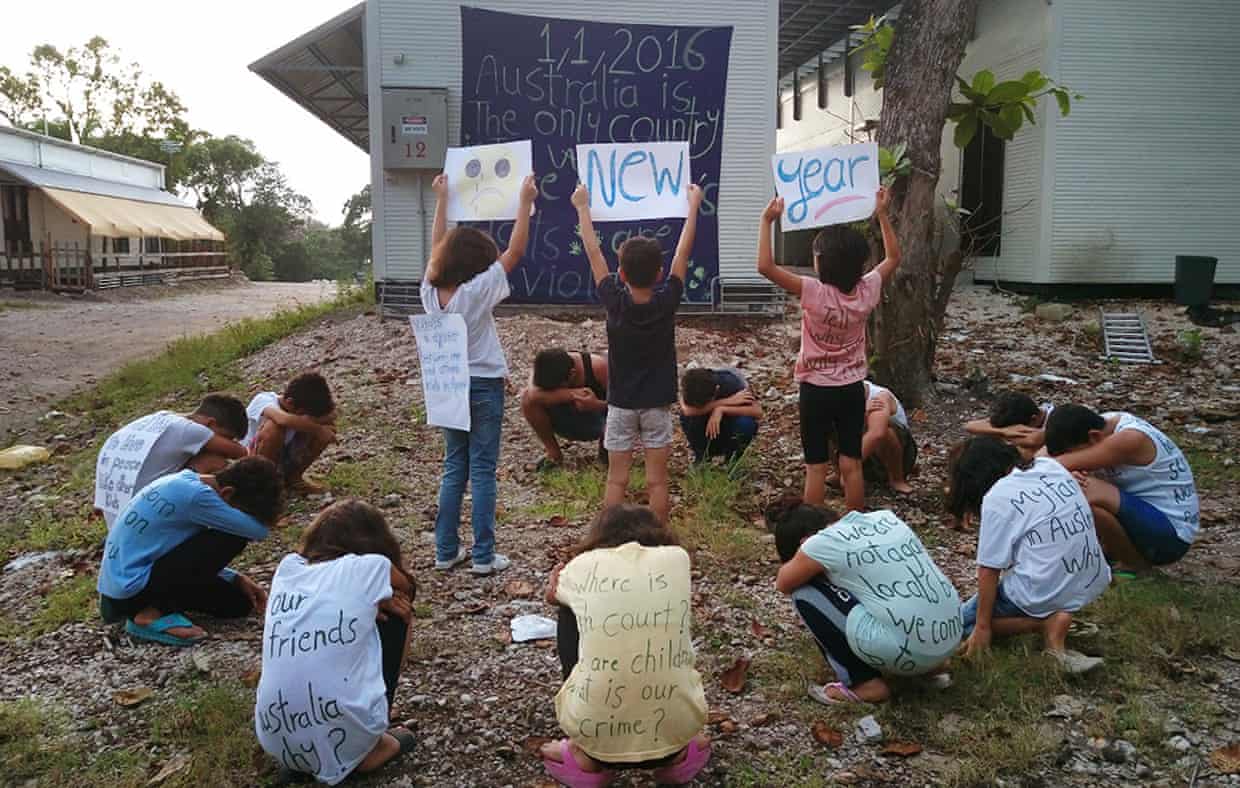 Wednesday, June 20, was World Refugee Day. Some 65 million people are refugees, out of a global population of  7.6 billion. Congratulations, world. While eyes rightly and firmly fixed on the horror show that is the United States reception of asylum seekers, refugees and migrants, with an occasional glance at the horror show that is the Italian reception of asylum seekers, refugees and migrants, it would be understandable if you missed this week's horror show that is Australia's ongoing torture of asylum seekers, refugees and migrants. This week, the week of World Refugee Day, Australia allowed a dying man to leave Nauru for palliative care in Australia. This week, Australia was forced to allow a Somali refugee permission to go to Australia for necessary and lifesaving medical attention. There are 65 million refugees. These are two.
Ali is a 63-year-old Hazara refugee father of six who has spent five years on Nauru. He is in the last stages of advanced lung cancer. He has pleaded for months to be allowed to go to Australia where he might get decent care. The Australian government refused. Thousands of Australian doctors pleaded to have Ali transferred to Australia. No dice. Faith groups, activist groups, women's groups, sports groups, and individuals mobilized. The Australian government refused. Finally, today, Ali was moved to Australia. Ali is a formally recognized refugee. Nevertheless, he only gains passage when he's about to move onto the next realm. What is asylum in that world, in our world?
A 30-year-old pregnant Somali woman, known as DCQ18, has also been on Nauru for five years. She too is a formally recognized refugee. She is twelve weeks pregnant. She is a survivor of infibulation, also known as female genital mutilation. She has tried to commit suicide. She is persuaded that pregnancy and childbirth would be fatal. Doctors agree. She wants to terminate the pregnancy. Doctors agree that that would be a good thing for her, in the circumstances. Abortion is illegal on Nauru. Australia has offered Taiwan as a solution. Doctors agree that Taiwanese doctors, though first caliber, have no experience in treating women who have undergone infibulation. The court agreed, and DCQ18 will be transferred to Australia for medical care. Australia formally recognized DCQ18 as a refugee in November 2014, and since then she's been dying on Nauru.
This week, Iranian refugee and prisoner on Manus Island for the past four years, Behrouz Boochani, wrote, "The one thing that remains consistent over all this time is the unrelenting affliction. We are forgotten people discarded on forgotten islands. The question remains: "Who will be the next to be sacrificed? Whose death will enable our innocent voices to be heard in the media again? Whose death will function as another message to the world that we are locked up in these island prisons?"
Looking over the detritus of Holocaust death camps, philosopher Giorgio Agamben saw the work of homo sacer: "he who is exiled from political belonging, exposed to persistent structural violence and the risk of a meaningless death." This year, Australian feminist historians Catherine Kevin and Karen Agutter looked at the mess of Australian immigration policy and saw the work of femina sacer: "subject to extreme reproductive coercion, bereft of political belonging and politically meaningful only insofar as they convey a warning to those who would travel to Australia by boat to seek asylum."
Australia casts a shadow on the U.S. – Mexico border as that border casts a shadow on the Mediterranean as the Mediterranean casts its shadow on the waters around Australia. At the center of that shadow is a darkness and a silence, an insistence that the violence committed against some particular people means less than nothing, that their deaths mean less than so much dust and ash to be swept off and forgotten. The work of asylum seekers once had something to do with life-to-come. Now, they are forced into the administration of their own endless, agonizing dying. That must end … now. Shut down the detention centers today.
(Photo credit: The Guardian)