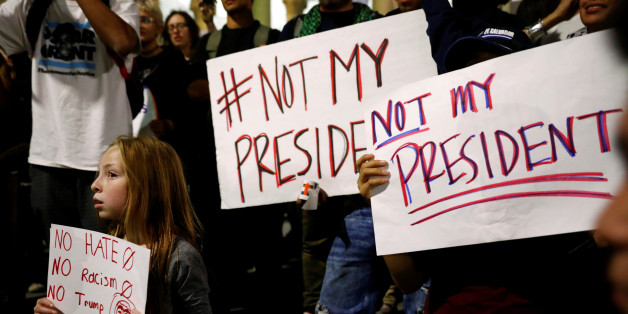 Across the United States, from middle schools and high schools to colleges and universities, students of color, women students, LGBTIQ students, Muslim and Jewish students and others report outbursts of intimidation, threat, and abuse. To no one's surprise, a campaign based on white supremacy, racism, xenophobia, misogyny, homophobia, ableism, anti-Semitism, Islamophobia, all held together by lies, hatred and violence, has resulted in intensified and expanded violence. Violence against people of color, women, immigrants, LGBTIQ persons, Jews, Muslims, others, has always been a part of the American landscape, but the current iterations were triggered and authorized by the man who would be President, and until he does more than perform business-as-usual non-penance, he is not my President.
Here's part of the current list, and it's partial by too many degrees:
At Texas State University in San Marcos, threatening fliers called for the "arrest and torture" of university leaders who promote "diversity garbage".
At San Jose State University in California, a Muslim woman told police that she had been grabbed by her hijab and choked.
At San Diego State University, a Muslim woman wearing a headscarf was attacked.
At Wellesley College, Black student organizations report that Trump supporters nearby Babson College spat at a black female student.
At York County School of Technology in York, Pennsylvania, high school students carried a Trump sign and yelled "white power" as they walked through the hall on Wednesday.
Students at Royal Oak Middle School in Royal Oak, Michigan, chanted "Build the wall" in the cafeteria on Wednesday.
In Utah, schools from elementary through high school are reporting incidents of Latino and Latina students being harassed and told to "go back to Mexico."
This is happening in schools across the United States. This is our new no child left behind.
A week before the election, Charles Blow admonished, "Trump is an existential threat." Existential, not ideological. When the election results became clear, David Remnick warned, "In the coming days, commentators will attempt to normalize this event." They were both right, right as Cassandra. And so, "thoughtful" discussions of the current "situation" intone phrases like "primal scream" and "better a plan than a direct action", ad nauseam.
Meanwhile, Denise Cervantes is a Latina student who writes for the student newspaper at Texas State University in San Marcos. The other day, a male student wearing a Trump 2016 shirt spat at her and told her she did not belong there anymore. Denise Cervantes reflects, "I didn't realize that it would get this bad all of a sudden". It has. The time to make America decent is now.
(Photo Credit: Huffington Post / Reuters / Patrick Fallon)