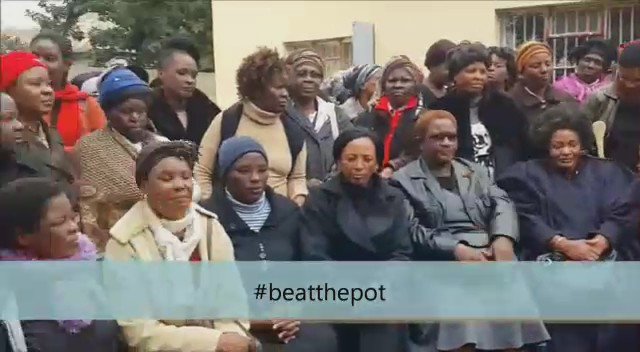 On Saturday, July 16, Zimbabwean women will go to the streets to protest hunger, starvation, deprivation, degradation, violence and all the other State programs in Zimbabwe. Like the women of Burkina Faso who carried giant spatulas and took to the streets two years ago, the women of Zimbabwe will carry and beat their pots, hoping to make the walls come tumbling down. The women are saying they have had enough of programmatic hunger and poverty, which targets women and children particularly viciously. They say, "Wathinta abafazi, wathinta imbokodo! A hungry woman is an angry woman."
The past two weeks have seen major demonstration and protests, and police violence, in Zimbabwe. Over the past three months, Zimbabwe has been visibly simmering. In March, Pastor Evan Mawarire went to his Facebook page and recorded a four-minute lamentation, on the occasion of the nation's 36th independence celebration. Cloaked in Zimbabwe's flag, Mawarire described the symbolism of the flag's colors and the reality of everyday lived experience in Zimbabwe. Within days, #ThisFlag appeared across Zimbabwe. As before, people said they had had enough, and, at the same time, they said that as Zimbabweans, they deserved better. They deserved to live and to thrive, with real access to decent food, education, health, employment, safety, well-being, everything.
Protests started at Beitbridge, on the border with South Africa, in response to a new government ban on certain small imports that are a mainstay and a lifeline in many communities. Cross-border traders protested, and were dealt with harshly. Then people demonstrated in Harare, and, again, were dealt with harshly. Videos started circulating showing police targeting, beating, and torturing women and children. In Bulawayo, an eighteen-month-old toddler is reported to have died of suffocation, caused by breathing in tear gas. These protests were followed by a daylong stayaway, last Wednesday. #ThisFlag begat #ZimShutDown2016. Meanwhile, across the country, youth have been organizing under the hashtag #Tajamuka.
More and more people started coming into the streets, concerned at reports that the government is out of money. Zimbabwe announced it would start issuing `bonds', aka zombie money. Meanwhile, 4 million people in the rural areas face starvation.
Women have been organizing, and are saying enough is too much. According to Grace Chirenge, "Women bear the brunt of political violence, as they are at the centre of transformation in society … We are tired of being victims and survivors of this male dominance that is doing us no good." Samukeliso Khumalo agrees, "Tomorrow's female war veteran won't be the one who allegedly gunned down a helicopter but a hungry woman who definitely rode on the back of a policeman."
Through non-violent means, women are taking the battle to the streets because the war is already in the streets and homes and kitchens and pots and empty stomachs. Across Zimbabwe, women are organizing to beat their empty pots in the streets of Bulawayo this Saturday. "Wathinta abafazi, wathinta imbokodo! A hungry woman is an angry woman." Zimbabwe, you have starved the women, you have struck their pots, you will be crushed. The time is now. #BeatThePot.
(Photo Credit: Twitter / Trends Zimbabwe) (Video Credit: YouTube / Zimbabwe HOPE TV)