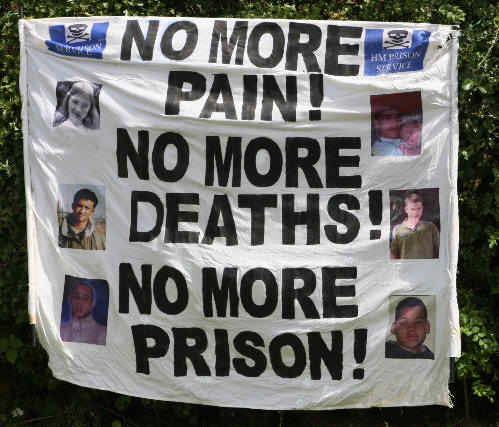 Today, the United Kingdom's Ministry of Justice released Safety in Custody Statistics England and Wales / Deaths in prison custody to March 2016. To absolutely no one's surprise, the numbers are bad, the worst in 25 years. One hundred people committed suicide in prisons across England and Wales, in the twelve months between March 2015 and March 2016. Last year, according to the Howard League for Penal Reform, the Prison and Probation Ombudsman for England and Wales, and the House of Commons Justice Committee, prison suicides in England and Wales reached a seven-year high. Last year, the Ombudsman found a 64% increase in self-inflicted deaths in custody over the previous year. Additionally, "there were self-inflicted deaths at 53 different prisons, 56% more than the previous year. This included prisons where there had not been self-inflicted deaths for many years, sometimes ever." In February 2016, the Ombudsman published a "Learning Lessons Bulletin" on prisoner suicide within the first month of custody: "It is a sadness to me that this bulletin repeats learning that I have frequently published elsewhere, about staff not spotting or using essential information about risk of suicide. This suggests that lessons still need to be learned." The sadness goes deeper and broader than repetition and not learning. The sadness is that the bodies pile up and nobody cares.
Today's report notes that prison suicides have soared from 79 last year to 100 this year, a 27% increase, and that prison suicide make up a little over one-third of prison deaths. Further, "the rate of self-inflicted deaths had reached its peak in the time series in the 12 months to March 2003 of 1.5 per 1,000 prisoners. After a period of fluctuations from 2004 to 2008, the self-inflicted death rate had stabilised until 2013. Subsequently the rate began to rise again to the highest point, since the prior peak, in the most recent 12 months ending March 2016 of 1.2 per 1,000 prisoners."
While today's report does not distinguish between men and women prisoners who have `successfully' committed suicide, its profile of self-harm in the same period is telling: "When considering females, despite the falls seen between 2009 and 2012, rates of individuals self-harming among females remain disproportionately high in comparison to the overall rates of individuals self-harming … Females accounted for nearly a quarter of self-harm incidents in this reporting period, but only make up less than 5% of the prison population."
None of this is surprising, and that's the point. Critics say the system is in meltdown; it's not. The system is working perfectly. Every year, a report comes out and some ask why the numbers continue to spike. Every year, the staff is blamed or the community or the individual prisoners. Every year, "safety in custody" is measured in suicide and self harm, and no one asks about well being and absolutely no one asks if those who die and hurt themselves in the pursuit of their own deaths belong behind bars in the first place. Every year, the public budgets for mental health are cut more deeply, and the butchers mutter in surprise at the "decrepit state" of the prisons and those who live and die therein.
Here there are no lessons to learn. These deaths are a station on a global assembly line at which employees dutifully stand and wait for the next body to ignore. The prisons of England and Wales are one tiny part of the global labor of necropower: "I have put forward the notion of necropolitics and necropower to account for the various ways in which, in our contemporary world, … new and unique forms of social existence in which vast populations are subjected to conditions of life conferring upon them the status of living dead … Under conditions of necropower, the lines between resistance and suicide, sacrifice and redemption, martyrdom and freedom are blurred."
It is a sadness frequently published elsewhere.
(Photo Credit: Indymedia UK)