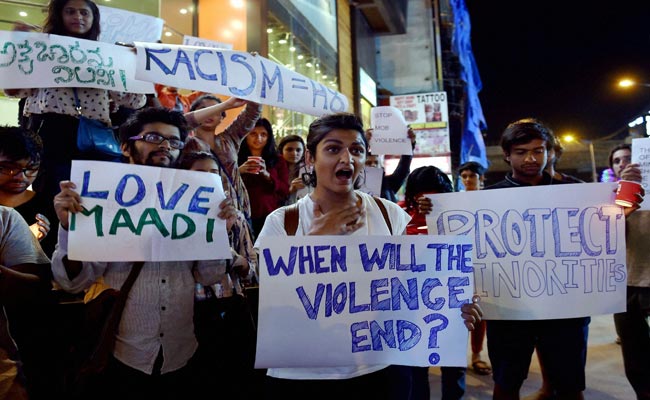 Late at night on 30 January 2016, a Tanzanian woman was dragged out of her car, stripped, and beaten in the south Indian city of Bengaluru. A local vigilante mob decided to punish her in this way because half an hour earlier a 35-year old Sudanese male driver, Micah S. Pundugu, had run over a local female resident and sped away. The Tanzanian student had no clue about the accident. Nor did she have any connection with Pundugu. Yet the crowd allegedly paraded her naked, and torched her car presuming that since both were African nationals there had to be a connection. When a local bystander tried to help her by handing her a t-shirt, he was thrashed too. The 21-year old woman – a second-year BBA student at Acharya College, Bengaluru – then tried to escape by climbing onto a passing bus that had slowed down to watch the 'spectacle'. But the passengers immediately hurled her back into the arms of the mob. According to media reports, all of this happened as the local police stood by watching the events. When the woman finally managed to escape, she remained in hiding at a friend's place for two days – with good reason given that there were reports of angry mobs scouting the area for African residents. In her conversations with the media, the Home Minister and the police chief, the Tanzanian student later noted that when she sought to file a police report soon after Saturday's incident, the policemen told her she could file the report only after she brought to them the Sudanese national responsible for the accident.
As public figures like External Affairs Minister Sushma Swaraj, social activist and actress Nandita Das, and journalist Vir Sanghvi publicly condemned the incident, others like Karnataka Home Minister G Parmeshwara denied both its racial and sexual overtones. Union Law and Justice Minister DV Sadananda attempted to explain away the mob violence by emphasizing that Africans in India were involved in "illegal activities", and outstayed their welcome in India on "expired visas". Soon enough the issue devolved into political mudslinging between the BJP and the Congress parties over the issue of Congress Vice President Rahul Gandhi's silence on this occasion vs. his prompt response in the Rohith Vemula suicide.
The latter kinds of response swiftly obfuscated the very real issues of everyday racist and sexual violence faced by African nationals in India. However, outraged by Sunday's incident, several African students spoke out about their everyday encounters with racism. "People call us names. The 'N' word, blacky, blackberry, even 'monkey'. It happens on the road while driving, at public places and even at the locality we live in", said BSc student Axell Mouassoumy from the Republic of Congo. Abigail noted how her beloved Bollywood films are definitive in shaping prospective students' expectations of India, i.e. they expect the same kind of warmth and color as portrayed in those films. But they are often sadly disappointed by the reality of racist attitudes in the country. Ironically, Bollywood films also perpetrate denigrating stereotypes about blacks and Africans. As Sai Hussain has noted, black characters in Indian cinema continue to be "written one-dimensionally, and often negatively".
The Bengaluru incident is only one of the many recent cases of extreme violence against Africans in India. Other cases reported in the media include:
The stoning of Burundi national Yannick Nihangaza in April 2012. Yannick was heading to a party when nine young men repeatedly assaulted him with stones. Yannick's injuries put him in a coma for 2 years ultimately leading to his death in July 2014.
The New Delhi Rajiv Chowk metro station case where three African male students were mercilessly beaten with fists, and sticks in September 2014. They "were allegedly "misbehaving with women." The crowd looked like "a lynch mob beating the black men with sticks while yelling, 'Bharat Mata Ki Jai'" i.e. "Victory to Mother India".
The robbing and gang rape of a 24 year old Rwandese woman returning to her home near Delhi University, in December 2012.
In a critique of violence against Black people in India, journalist Palash Krishna Mehrotra wrote, "Indians may scream 'racism' abroad (U.S.A. and Australia) but they see no problem in mistreating the black community or anyone who looks different, at home".
It is high time we realized the gravity of the situation, and took action to stop such minority discrimination and targeted violence in India. How can we continue to proudly claim the legacies of Gandhi and Gautam Buddha when we cannot follow their basic lessons in non-violence and respect for individuals of all classes, castes, and colors? No matter how developed a nation we become in terms of smart cities and world-class physical infrastructures, if we cannot show basic human respect and consideration towards gendered and ethnic minorities and immigrants; if we cannot respect trust in the law and order mechanisms of our country, the "Incredible India" we know and love will soon implode from within.
(Photo Credit: NDTV.com)