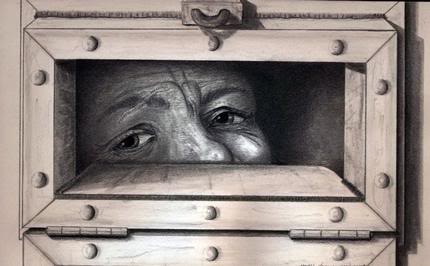 Yesterday, Ellen Melchiondo reported on a visit to the Restricted Housing Unit in SCI-Muncy, a women's prison in Pennsylvania. She noted, "In one of the pods is confined Miriam White, who in 1999, at the age of 11, stabbed a complete stranger to death in Philadelphia. Miriam was sent to various institutions before landing in Muncy. I could barely see Miriam through her window, because on it, she was finger painting with her feces, slowly, deliberately and trance-like." Here is Miriam White's story.
On August 20, 1999, eleven-year-old Miriam White argued with a cousin. Miriam then grabbed a knife and ran out of her South Philadelphia foster home. She ran down the street, passing some children, turned the corner, and saw Rosemary Knight, fifty-five years old. Miriam ran up to Rosemary Knight and stabbed her in the chest. Rosemary Knight died on the spot.
Rosemary Knight was a hairdresser and the principal wage earner in her household. August 20, 1999, was the twenty-seventh wedding anniversary of Rosemary and Jerome Knight. Miriam did not know Rosemary Knight.
Miriam White was a young "troubled" Black girl. Her infancy and earlier childhood was one of violence and abandonment, followed by a succession of institutionalization and foster homes. In February 1995, Michelle White Stevens took in the then-seven-year-old Miriam and her two younger siblings. In 1999, Stevens adopted the children. By all accounts, the house was a loving household.
Miriam White progressed and crashed, progressed and crashed. She has been diagnosed with severe mental illness and severe intellectual disability.
According to Miriam White, she wanted to hurt someone so that she would be sent back to a juvenile institution. She was careful not to attack children. After she stabbed Rosemary Knight, she ran to nearby hair salon, "trembling and begging for help because she had just stabbed someone."
Up to this point, the story of Miriam White and Rosemary Knight, and all those around them, is tragic. Then it gets worse.
Pennsylvania is one of the few states in which anyone charged with first-degree murder must be tried as an adult. That includes eleven-year-old Miriam White. So Miriam White was placed in solitary in an adult jail while the adults tried and failed to figure something out. The judge tried and failed to find a compromise. The defense attorneys tried and failed to argue for reason. As her attorney argued, "Who, judge, at Muncy is going to take young Miriam through her first menstrual cycle. . . . The older, nurturing inmates?"
And so, in August 2007, Miriam White, eighteen years old, pleaded guilty in adult court to third-degree murder and possession of an instrument of crime, and was sentenced to 18 to 40 years. According to some legal scholars, it's doubtful that Miriam White is competent to take a plea or anything else in court.
Miriam White's "case" is littered with fine language. She "haunts" the criminal justice system. The initial judge's ruling concluded, "I cannot exonerate Miriam just because I feel sorry for her. I cannot return Miriam to juvenile court just because her life story makes my heart weep. My oath as a judge requires that I decide this case on the basis of the proofs in court. The decertification petition is denied." Miriam White's case is "tragic" as it is "heartbreaking."
That's how the story is told, but not how the life is lived. Today, sixteen years and two months later, where is Miriam White? "I could barely see Miriam through her window, because on it, she was finger painting with her feces, slowly, deliberately and trance-like." Justice is served, humanity denied.
(Image Credit: Martin Vargas / Solitary Watch)