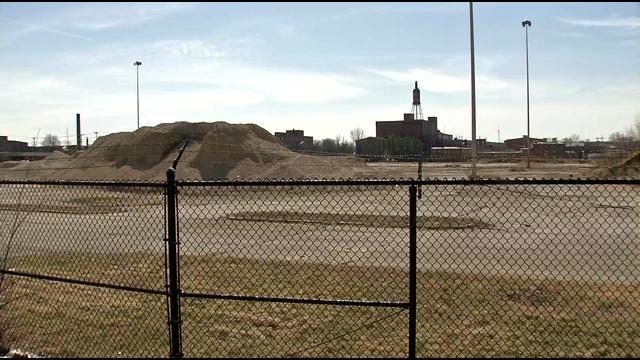 After months of delays, protests, and legal wrangling, Walmart's arrival on the border of West Louisville's California and Russell neighborhoods looks increasingly likely. Some residents praise and are eager to hasten the construction of the big-box store in an empty lot in the West End. What lead to this pro-Walmart attitude?
The empty lot at 18th and West Broadway was leftover when Phillip Morris left Louisville, laying-off thousands of workers in its West End plant. The city government acquired the former factory and used the excuse of having this surplus land to embark on various neoliberal economic redevelopment schemes to turn a profit.
Phillip Morris' exit from Louisville is part of a long history of deindustrialization that leaves Black workers in the lurch and many residents of West Louisville neighborhoods in precarious situations. For many, daily life is about survival through conditions of violent State-sanctioned economic disinvestment that mostly targets Black people. In fact, Louisville is the tenth worst city for Black poverty. This high rate of Black poverty directly correlates to the high rates of health problems that Black communities in West Louisville neighborhoods face, from staggering levels of infant mortality to stroke to cancer.
Politicians in the West End often characterize the need for economic revitalization as "desperate." Desperation can drive these same politicians to reckless actions, "regardless of risks or consequences."
Walmart wants to build a brand-new supercenter in an empty lot in the California neighborhood. The company promises 350 new jobs and economic progress. These promises alone were enough for some church leaders to hold a prayer vigil in support of the big-box store.
However, supporting Walmart as a way to decrease poverty in the West End ignores some key facts: the fact that Walmart has a tendency to exploit workers and the environment, as well as a tendency to actually increase poverty in many areas.
Another key fact ignored is that Walmart has a special relationship with harming its women workers. Whether it's exposing pregnant employees to dangerous chemicals, buying clothes from factories that massacre women workers, or routinely discriminating against women workers in pay and advancement, Walmart is always in the business of hurting women—always. How can a company that participates in the degradation and murder of women be expected to improve a neighborhood?
The State does not care about the women workers of Walmart in Louisville or globally, nor does the State care about using tax revenue to improve working-class Black women's lives in Louisville. It plans to reward Walmart for maintaining about 100 fewer jobs than the company promised to create in the West End, and spent millions to buy up land around the building site. One Louisville councilmember who mentioned Walmart's low pay rates rationalized it by the need for economic development. Another councilmember who actually stood with Louisville labor groups against Walmart was demonized and later voted out of office.
Organizers and activists are fighting back in the streets and in the courts. Groups like Women In Transition and labor unions are mobilizing bodies and putting forward alternative plans. A lawsuit has been filed over the proposed design of the store and surrounding landscape, which has at least held up the process for now.
The capitalist developers who want to bring in big-box stores like Walmart like to appeal to a sense of place, community, and home (see picture below). But this sense of place, community, and home is built on the exclusion and death of poor women of color. These women are the surplus population that pays the price of "economic development." These women are also the ones who fight back, specters of the living and the dead that haunt redevelopment projects around the world.
(Photo Credit 1: WDRB.com) (Photo Credit 2: Paul Seltzer)