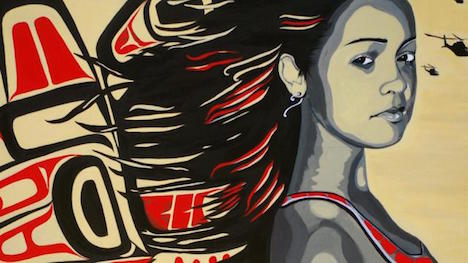 On July 14, 53-year-old Choctaw activist Rexdale W. Henry was "found" dead in the Neshoba County Jail in Philadelphia, Mississippi. That's the same day 18-year-old Kindra Chapman was "found" dead in her jail cell in Homewood, Alabama, and a day after Sandra Bland was "found" dead in her jail cell in Waller County, Texas. Like Sandra Bland, Rexdale Henry was arrested for a traffic violation, in this case non-payment of a fine. Mississippi was already investigating the death of Jonathan Sanders, a Black man who died at the hands of police in Clark County, Mississippi Jail a day before Henry was arrested. Four days after Rexdale Henry was "found", Troy Goode was "found" dead in police custody. Goode was White. In dying in jail, Rexdale W. Henry joins more than this list of "mysterious" jailhouse morbidity and mortality. He joins a national list of Native Americans dying in jail and at the hands of police. He joins Christina Tahhahwah.
In Lawton, Oklahoma, Christina Tahhahwah lived with bi-polar disorder. When she stopped taking her medicines, her family called the police and asked them to take her to the hospital for medical care. She was at her grandparents' house. When she refused to leave the property, the police arrested her for trespassing and took her off to jail. Not to the hospital, to jail. That was November 13, 2014.
On November 14, minutes after being handcuffed to the cell door, Christina Tahhahwah was "found" unresponsive. She was in cardiac arrest. She was transferred to the hospital, where she died. Her family was not notified of her heart attack nor of her transfer to the hospital. One family member says they only found out because a family friend, who works at the hospital, sent them a note via Facebook. The family went to the hospital and there heard that fellow jail inmates were saying that Christina Tahhahwah had been tasered for refusing to stop singing Comanche hymns. The Lawton police say no Tasers were used.
Tasers are not the issue. The issue is that Christina Tahhahwah is dead. Just another bipolar Native American woman "found" in jail. The Lawton Police have not said they treated or cared about the reports of her bipolar condition. The issue is justice.
Police are killing Native Americans at a staggering, and by and large unremarked upon, rate. Overrepresented in prisons and jails, Native Americans are beyond overrepresented in jail mortality rates. They are the nation of "found" bodies. What happened to Rexdale Henry? What happened to Christina Tahhahwah? Nothing out of the ordinary. Just another Native American death in a jail in the United States.
(Image Credit: Axis of Logic)