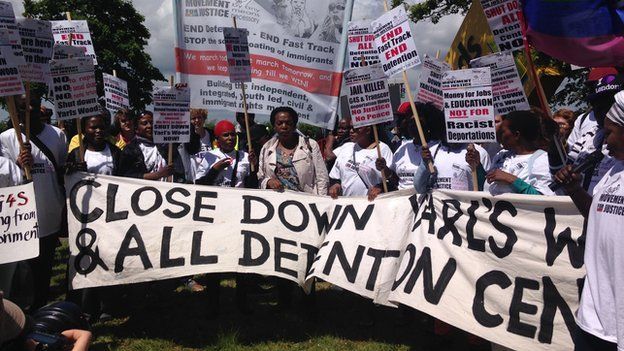 Hundreds of people showed up at Yarl's Wood today, with one message. Shut it down now! Never open it again! Set her free! #SetHerFree. The hundreds included activists, organizers, advocates, and unusual suspects. Green Party and Conservative Party members showed up in support. Women chanted from one side of the fence surrounding the prison, and the women inside Yarl's Wood responded, amplifying the demand to shut it down immediately and permanently. Lively protesters successfully pulled down parts of the outside perimeter fence, to the cheering of those inside as well as outside. Action unites.
The event was organized primarily by Women for Refugee Women, in coalition with other groups. Delighted at the numbers and energy of the turnout, Women for Refugee Women spokeswoman Sophie Radice commented, "The time was right for this protest because now people know what's going on they want to take action. People come here to seek asylum and we lock them up like criminals. We will not stop campaigning until it is shut down … The atmosphere is defiant and it's been a real show of force. We'll carry on until the abomination that is Yarl's Wood is shut down."
When asked about the "problem with illegal immigration", Shami Chakrabarti, director of the human rights organization Liberty, responded, "There is a problem in the world with turmoil and war and also for displaced people who need who need support and protection. But why should human rights abuses only be a justification for wars `over there' and not refugee and human rights laws over here? … These brave women – some pregnant; some survivors of rape and torture; some suffering from mental or physical health problems – are indefinitely detained in a prison where abuse is endemic. Yarl's Wood shames our great nation of immigrants – elsewhere criminal suspects detained without charge must be released after 14 days. Shut it down and set them free."
As a local Conservative MP explained, 15 years ago, detention of asylum seekers was rare. Now "it's the default." It's costly, ineffective, and inhumane, and that's from a tough-on-immigration Conservative.
Yarl's Wood is supposed to be the house of the dead, a factory that churns out packets of pain, suffering, and ultimately death. But the women of Yarl's Wood have refused to lie down and die. They have rejected the special hell slotted for them. In 2010, at the age of 16, former Yarl's Wood prisoner Meltem Avcil began campaigning to shut it down. In 2007, women asylum seekers banded together to take care of each other, help one another with anti-deportation campaigns, and to publicize the particulars of being a woman asylum seeker in Britain in 2007. They formed Women Asylum Seekers Together, WAST, as a women only safe space for those threatened every second of every day, women asylum seekers. Today, eight years later, they are all over the country.
Lydia Besong left Yarl's Wood and wrote a play, How I Became an Asylum Seeker, which WAST took up and performed across the country. Nigerian lesbian feminist Aderonke Apata was dumped into Yarl's Wood, or so they thought. She organized, founded Manchester MiSol, Manchester Migrant Solidarity, who hooked up with WAST, and today Yarl's Wood was surrounded by chants, songs, and bodies pushing against the fence. Shut it down! Shut it down! Set her free!
Not long ago, WAST formed a choir, the Nightingales, who sing of women's rights, women's power, women's dreams, and they begin, but it's only a beginning, with this: "We want Yarl's Wood to close, not just today, or tomorrow, but forever". Sing it loud, sing it proud, shut it down, set her free, not just today, or tomorrow, but forever. Amen.
(Photo Credit 1: BBC)  (Photo Credit 2: Women for Refugee Women) (Video Credit: Channel 4 / YouTube)