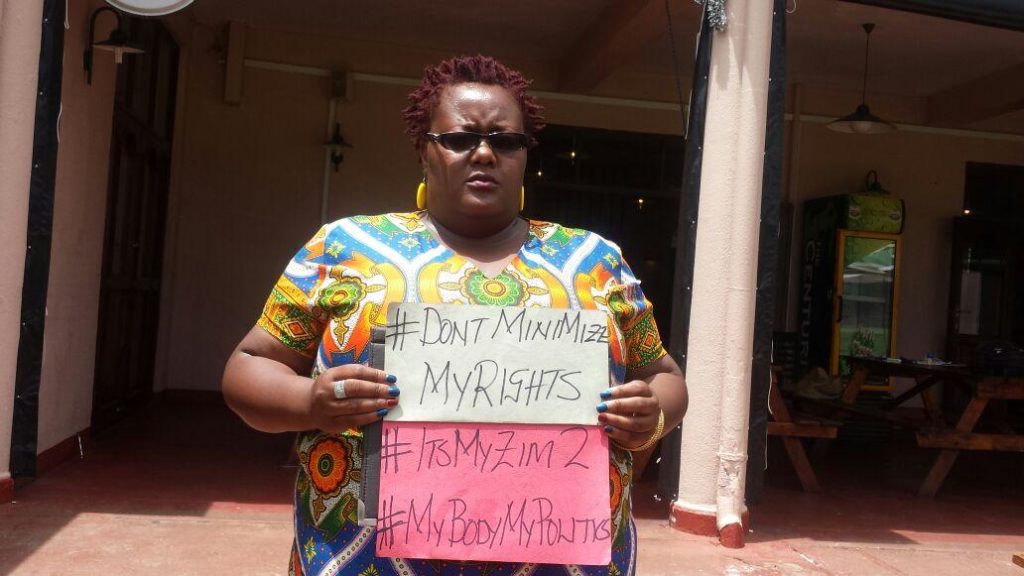 On December 12, in Harare, a group of men attacked a woman. They were `punishing' her for wearing a short or mini skirt. The woman was walking past the taxi rank when a man beckoned her over. She refused to answer. He called her a prostitute and then called his friends, and together they attacked her. Another man intervened to stop the men, and was threatened off. Finally, the woman paid a commuter omnibus crew two dollars and got away. The assault was captured on video, which went viral.
Women immediately organized. #DontMinimizeMyRights began to appear on social media, placards, and in the air. The full message began to circulate: #DontMinimizeMyRights. Our Cities. Our Streets. Our Dignity. Our Rights. Our Ubuntu. Hunhu Hwedu. Respect for all. Women organized a protest march, not the first one to take on violence against women that occurs within the fog of `preserving traditional culture.' In the streets, courtrooms, police station, legislative bodies, schools, crèches, kitchens and beyond and in between, women spoke out.
Harare West MP Jessie Majome explained, "This is a fundamental women's rights issue. It violates all known basic freedoms, freedom of movement and expression; it undermines everything and even the right to the protection of the law and the right to equality." Tendai Garwe agreed, "For the women of Zimbabwe, this is an opportunity for us to be heard and to realise that we are coming for the rights that have been side lined for too long. This is not just about a mini-skirt issue because if you can control what l wear what else are you controlling? What power do you have over me? We are very interested in this case because we are pushing an agenda for the amplification of voice and the rights of women." Women Coalition board member Ms Nyaradzo Mashayamombe added, "It might appear as an act directed at one woman, but its effect is to damage our children psychologically, dehumanise women and present us as a lawless nation. As women of Zimbabwe, we will not stand by and watch women being harassed and humiliated." SAfAIDS communications director Tariro Makanga warned, "Enough is enough. This is our last time to talk as women. Now we want action!"
Jessie Majome added, "There is no public transportation system and this leaves commuters, especially defenceless women prone to such violent attacks. The government must come up with measures to address the current crisis as well as create employment to ensure that these people who have turned to touting for a living have decent jobs. We need an effective transport system that is convenient and reliable."
Assaults on women that use clothing as a pretext, whether they come from the government, as in Uganda, or from men on the street, as recently in Kenya, are never an assault on one woman and never occur spontaneously. They attack women's mobility, presence and power. They attack any hint of intervention into patriarchy. They work to deflect critical energy and attention on failings of the State and society. Violence against women occurs in a climate as well as an instant. That climate is not exclusive to Zimbabwe nor to Africa. In 2012, India, Kyrgyzstan, Indonesia, South Korea, Mexico, Nepal, France, and the United States engaged in State policing of women's fashion. In New York, for example, transgender women, and especially transgender women of color, were routinely stopped, for the crime of cross-dressing.
And the women always fight back and organize. In South Africa, Namibia, Malawi, Kenya, Uganda, and Zimbabwe, women have forcefully rejected the violence and the excuses for the violence. They have thrown out the alibis of the State and have managed to throw out the State on occasion. Women don't forget. For Tafadzwa Choto, a prominent Zimbabwean activist, two events politicized her. The first occurred in 1993: "A woman at the University of Zimbabwe was stripped of her skirt. It was said to be a miniskirt and was publicly ripped off her. I was disgusted." The second was in 1995: "In Harare, in the city center, … three civilians were shot by the police, while the police were chasing after some thieves who had stolen a manual typewriter. Three civilians were shot dead and for what?"
#SavetheMiniskirt. #StripMeNot. #MyDressMyChoice. #DontMinimizeMyRights.
#DontMinimizeMyRights. Our Cities. Our Streets. Our Dignity. Our Rights. Our Ubuntu. Hunhu Hwedu. Respect for all.
(Photo Credit: Afrika Kontakt)